Email Marketing. Email Marketing is the process of promoting a brand or business via the method of email.
What can be achieved?
By planning and orchestrating email marketing campaigns for an organisation, many things can be achieved.
By sending out successful emails to an engaged audience, we should expect to see leads, conversions and sales increase. We can expect our brand awareness to improve, and the overall growth of the company to rise.
However, we should only expect these achievements and reached targets, if all stages of the marketing email journey have been thoroughly touched on.
3 categories of email marketing
Before we discuss the email journey though, I want to point out the 3 main categories into which email content falls.
As a business, you should explore each one of these categories and try to vary your email content between each.
Promotional emails: promoting new products and announcing releases with buying purposes for products and services.
News emails: Newsletters containing updates about the business, informative and thorough.
Transactional emails: Order confirmations and reminders. Emails that help the audience in regards to doing business with the brand.
The Email Journey
However, we should only expect these achievements and reached targets, if all stages of the marketing email journey have been thoroughly touched on.
Find the need
Finding the need for a specific email campaign will probably be easy for a business.
This is where you dive into the agenda of the email and the purpose of the campaign. It should be, to create more leads for the business in whatever form that may be. E.g. more sales, more forms filled or increased brand awareness.
The need for the email may fall into each of these 3 categories for email marketing:
Promotion emails (new products, buying purposes and specifically emails conducted for products based promotion).
News emails (emails that come across as a newsletter and contain updates about the business specifically).
And finally, transactional (these come in the form of order confirmations, reminders, delivery confirmations and so on, for us, the consumer).
Set Objectives
Setting objectives is the process of setting the key aims of the marketing campaign, what exactly do you want to achieve with this email?
This will give the department clear goals and objectives they need to work towards, to keep the team focussed and organised, and to grow the company. These are often in line with the company KPI'S.
Decide on the correct message
This stage of email marketing is important because you want to get the message right.
If a business is launching a new product, the tone, keywords and overall content of the message need to align with the objectives, and therefore deciding on the message before progressing any further is essential for an organised campaign.
Ensure your tone and manner comes across which aligns perfectly with your brand characteristics and identity – you don't want your audience concluding with distrust or uncertainty.
Gathering & creating the mailing list
This part is essential before moving on with the campaign.
Let's say, for example, your mailing list is a combination of clients; business owners in the whole of the UK, but the product your business is launching can only be delivered to the local area, it's wise to carefully use data to filter out the businesses in the local area, to create a new and alternative mailing list so that the content planned beforehand gets to the right receivers.
Developers can do this by coding the mailing list to create a new group to send to.
In short, you don't want to send your promotional material to the wrong sector of your audience base – it could be detrimental for your business.
Create the email
Whether this is done within the marketing or within the development team, creating an email will be done by using highly technical software provided to us by email providers.
A full department may work on an email or just 1 or 2 members of staff, depending on the size of the company.
This is the stage in the journey where you input all relevant content. Ensuring to structure the content, add links and metadata where applicable, create a header, decide on a subject line that boosts open rate, consider body text to support accessibility and so on.
There are plenty of elements in the stages of building and creating an email that needs to be correct so that the aims and objectives of the campaign are met.

Populate with images and social icons
It is important that in an email, it's not all text.
Today, images, icons and even gifs are used to make an email interactive, this helps with retaining customers and keeping them engaged on the content.
Although having plenty of imagery is favourable by many audiences, ensure not to put in any large file sizes which may hinder loading times for your marketing emails, and consider that some internet connections may not load the content.
If this happens the campaign message may be missed, as users bounce off the email due to large and inconvenient loading times.
With social icons, it's important to always have your email flowing through to different platforms, so that if a user isn't interested in the content or, if they want to know more about your business, they can easily click through to social channels to get what they're looking for.
Social icons also leave an opportunity for more conversions as targets in other areas, such as new followers on social media.
Test, Test, Test
It's important to send a test before sending out any email within an organisation.
Tests should be sent to the people in your department and managers if required.
This is so that colleagues can spot any spelling mistakes or areas with errors such as dead links or wrong links.
Not testing your marketing emails can negatively affect meeting the aims and objectives of the email, because, if the purpose is to get users to fill out a form, but the link does not work, you will get 0 results which is incredibly damaging to not only your reputation but the growth of the company.
Send
sending the email is a daunting part of the process, and it can take some time depending on the size of the mailing list.
If you've created a specific mailing list for this content, be sure to double-check it's going to the right place before sending.
Report
After 1 week, you can start to look back at the data the mail server has accumulated about the success of the email.
Consider bounce rates, open rates, click rates and unsubscribe rates and write everything up into a detailed report.
Reporting is important because it allows you to discuss with your managers or people in your team the progress that has been made, leading me on to the final stage in the email marketing journey…
Evaluating the progress
Evaluation is just as important as reporting.
After reporting the data and metrics on the email marketing campaign, it's very important to evaluate the progress of previous email marketing campaigns.
Discuss with your department the results and data. Has done well or not? What has made it perform better or worse? And, what can you do next time to either capitalise on or avoid?
Evaluating is a good final stage in the process to start looking forward at the next campaign you'll create for overall growth for the company.
Forming Customer Profiles for Targetted Email Marketing
A customer profile is an accumulation of details that make up the characteristics of a potential customer group.
They include the demographic of audiences and individuals, and the hobbies and interests of individuals, to make it easier to target certain audiences. We form customer profiles so we can create email content that fits best to our target audience, if we did not create customer profiles, we may create content that doesn't relate or align to our audience, and therefore fail to meet the aims and objectives of the company.
Demographics: These are baseline characteristics, age, gender.
Geographics: The location, where the customer lives or is currently based.
Psychographics: These are the beliefs and values of the customer.
Finally, behavioural: This is the behaviours of the customer, their experiences and hobbies.
All of these elements combine to create customer profiles.
Use the combination of characteristics to define and pick out groups of your entire audience base to accurately target content (email marketing material) toward them, for a higher chance of conversions.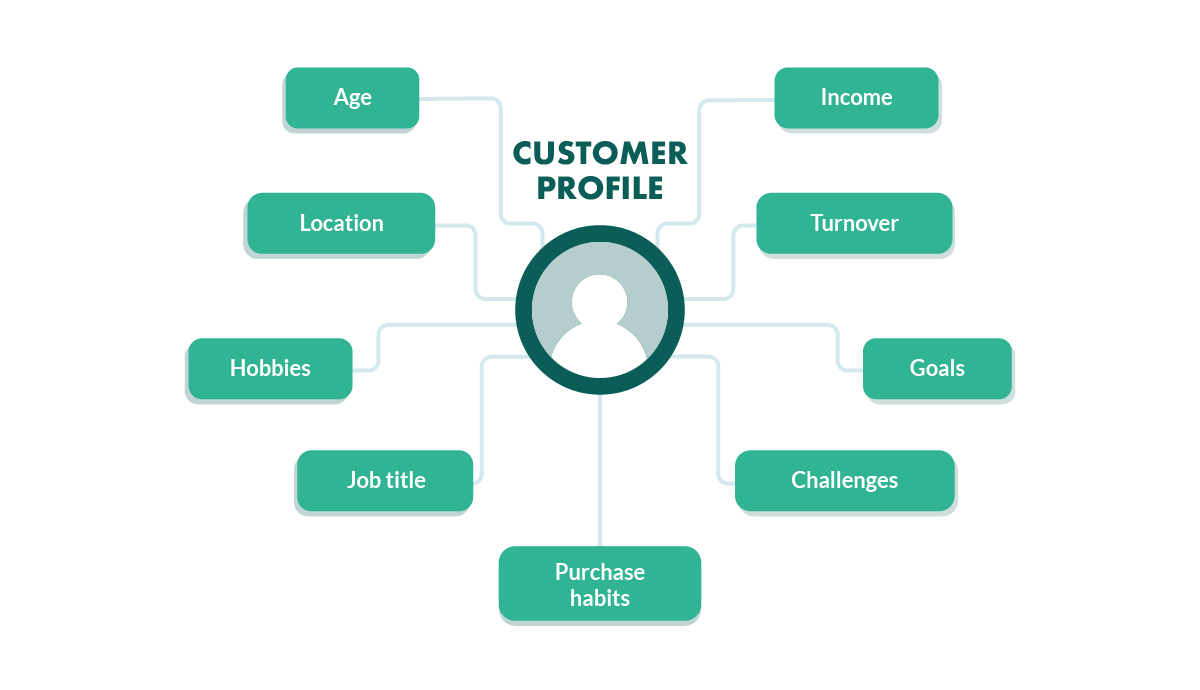 Examples of Customer Profiles
A company has a diverse audience base, however, a large percentage of this audience are female, get the bus to work at rush hour, are Christian, and enjoy online shopping, and socialising in the evenings.
Therefore, once a company identifies this large chunk of their audience, they can begin to form intelligent marketing strategies such as, sending marketing emails in the morning and at rush-hours, to mobile email apps, which contain easy methods to shop online, with vouchers for the cinema or bowling with 2 or more people.
The customer profile is highly likely to engage with this content because it's sent to them at the time they're active, it promotes what they're most interested in, and it aligns with their behaviours and beliefs.
The million-dollar question…
"How do you encourage people to receive your emails?" "How can I grow my mailing list?"
There are multiple ways that an organisation can build their mailing list full of users who are interested, to some degree, in your brand.
Social media
Social media is the most obvious. With social media, you can use CTA's and 'links in bio' to get your users to form-fill and become a member of your mailing list.
By obtaining a mailing list using social media, you know that you have worthwhile and active members on your mailing list because if they're active on social media and have taken an action to receive more promotional material from you, you can almost guarantee that they will take actions from your marketing emails.
Sales data
When a customer completes a transaction on your website, sales data may be retrieved, not only can you use this data to contact them about their recent purchase in the form of transactional emails, but you can also use this sales data for promotional emails in the future.
However, be sure to sick within the legal requirements and offer the option to 'opt in' by providing a tick box for users who do not want to be contacted for promotional purposes in the future!
Competitions
By offering Competitions and the chance to win something for free, you can ask, as a term and condition, for their email address, or to sign up to the mailing list.
An example of this is 'For a chance to win a £50.00 gift voucher with us, all you have to do is sign up to our mailing list!'. This is an effective and quick way to build a mailing list as it's a worthwhile incentive for your audience.
This is just a handful of ways to obtain emails so that your company can send promotional material. There are also, memberships, subscriptions and so much more.
Legal Requirements
This is a highly important point to touch on, as you do not want to break any laws or regulations, putting your brand in a difficult position.
If you breach laws and regulations, your brand could be seen as illegitimate, and customers may sway to competitors.
GDPR
First, there's GDPR. This is the data protection act. Before obtaining sales data for promotional matters, you need to ensure that the information is accessible to your users about where your data is being stored, and ways to request this data be destroyed.
You have to give the option to erase any data off your system like you have to make this information easily accessible. If you do not comply, it could be punishable by huge, impractical fines for the company.
Unsubscribe options
Touched on previously, this is one not to miss. What's worse than unsubscribed? Being marked as spam. Too many spam complaints will have your company put under investigation, which could lead to hefty spam fines and a bad rep.
Therefore, to be sure, provide your mailing list with a clear unsubscribe hyperlink in your marketing email material, besides, if they aren't interested in your content, it's better to not waste resources and budget sending it to the same people every time you send marketing emails!
Anti-Spam Law
Monitored by the information commissioner, with a whopping fine of up to £500k, the anti-spam law governs privacy and electronic communications regulations. They say there's also civil liability to anyone who suffers damage as a result of spam breach.
Therefore, for a business, you always need to clarify in short, how and why you're receiving this message. It may be at the bottom along the lines of 'you're receiving this email because you opted in to [brand name] marketing emails'.
Call To Action
A CTA is an element that explicitly tells a user what to do.
There should always be a Call To Action button in your marketing emails. And, whether there is a various number you want to include or different variations of CTA's, such as larger bits of text to buttons – they're essential for your users to complete the action the promotional material was intended for.
You can use A/B tests to decide on the right CTA for your content. By creating marketing emails and choosing different versions of the CTA in your content, you can check data and analytics to discover which works best, for better results.
Copy in marketing emails
Copy in marketing emails can change for a number of reasons. Maybe your mailing list is different to usual, and therefore the tone changes. Content can behave in either formal and informal tones, and it may vary depending on your audience.
Is the marketing material being sent B2B this time rather than B2C? The copy may change.
Subject lines are also the make or break of your open rate. Avoid spam, but ensure you're promising to offer content that is easy, effortless and useful inside.
Copy should be considered when thinking about the content in terms of paragraphs. People are reading on the train, on the bus and on the go. marketing emails need to be fit for these kinds of audiences.
Try to stick to 1 idea per paragraph.
Marketing Email Design
Marketing email material should follow a design that demonstrates your brands' core characteristics.
Marketing email design should include:
On brand colour themes.
Fonts which is used throughout your other promotional content such as on websites etc.
A well-structured layout that is uncluttered and follows a pattern of other marketing material which follows functional and external consistency.
Include compressed, but good quality, images that are relevant to the content – ensure to use websites such as tinypng to ensure the file size doesn't affect load time, which causes increased bounces.
Ensure your email content is device friendly, optimising to a number of screen sizes.
Branding should be clear to boost brand recognition.
Personalisation should be considered to increase conversions and appear more legitimate and build friendly rapport with audiences.
Obstacles you could encounter in email marketing
Remember, that when sending marketing emails, there are obstacles that you could encounter.
The first obstacle you may encounter is emails going to junk. To tackle this you could home in on links used. Links sometimes carry add-ons that are regarded as spam by mail providers. Also, if there are too many links in one marketing email, the email can be regarded as spam and go to users' junk boxes.
To tackle this, narrow down the essential links and only include them, and ensure there are no add ons which come across as spam.
Another obstacle in email marketing is content not being structured correctly. Consider mobile devices when creating marketing emails and ensure you test, test, test when trying to get content to appear coherent on different devices!
Finally, content loading. Be sure to optimise images so that the file size is not too big. As mentioned previously, large loading times for images and video in marketing emails could deter users and mark the content as spam.
Data Collection
To round off this help article, we're going to discuss data collection, and the kind of data we can obtain thanks to marketing emails.
Unsubscribe rates
Unsubscribe rates are important to identify, they're the number of people who have unsubscribed from your mailing list.
This could give your organisation insight into if the content you're sending is helpful. If one day the unsubscribe rate is a lot higher than the industry benchmark or your company averages, it may be time to consider why, so that you do not continue to lose such a high volume of users in your mailing list.
On the contrary, if your unsubscribe rate is extremely low one week, you may discuss why the email was so appealing to your users, and capitalise on this in the future.
Open rates
Open rates are the number of people opening your emails. This mostly depends on your subject line! This is why it's vastly important to choose a subject line that is enticing, creates curiosity, but is however effortless and non-spammy.
Hitting the nail on the head with a perfect subject is something that is still an enigma even in 2021, so all we can do is trial and error until you find a structure of subject line that works for your particular audience. Keep testing and trying to grow your data.
Bounce rates
Bounce rates are the number of people who bounce from your content. How many people clicked on the CTA on the email and into the content, but bounced straight back off. This is an interesting one, as it shows us that the users were initially interested in the subject, but chose to stop completing actions altogether by bouncing off completely
Bounce rates are great for deicing what made a user click, but then become disengaged from the content – They can indicate what needs changing for better results.
Click rates
Click rates are another interesting metric. These tell us the number of clicks we got on the content, and in some cases, depending on what mail server you are with, click rates are shown on certain CTA's.
This means you can see which CTA got the best clicks and which CTA's weren't successful in making conversions. Next time, you can use this data to boost the success of the marketing material.
Conversion rates
Conversion rates is the number of people who have converted within the content. Say your marketing email was intended to generate form-fills in a website. The amount of conversions is the number of users who completed this action and end goa.
Although some mail servers will not have the capability to present this data, Google Analytics will tell you the conversion rate of your latest campaign.
Conclusion
It's incredibly important to review data retrieved, so that as a company you can go back and evaluate what went right, and also, what went wrong, for future instances and campaigns.
Reviewing data will allow your company to learn from achievements and downfalls, and in turn, offers the opportunity for fantastic company growth.
The end!
Another long help article for you busy business owners and entrepreneurs out there but hey, we just want to make it easier for you to reach your end goals, aims and objectives and get the most out of your email marketing campaigns.
If you're thinking about amplifying your mobile marketing, we've written about that too.
For more advice, info and marketing tips, visit our blog.
To market for Free to over 400,000 Shoppers, join Us.